Radial 35, 3 ply USA Style repair units, Box/10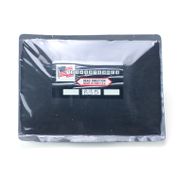 Manufacturer: Xtra Seal
Product ID: 11835
USA Style center over injury radial repair units.  Each reinforcing ply is individually end-wrapped to deflect tire flexing stresses in a unique manner.  Tie-gum construction eliminates the potential for delamination common in competitive products.  Designed to vulcanize chemically or in low temperature systems.  Constructed with gray vulcanizing gum and blue poly backing.
Radial 35, 3 ply (box/10)
Dimensions: 5 1/4″ x 7″ (133mm x 180mm)
To find out more about getting a price quote or ordering this product,
click here
.