Smart Sensor Pro+ TPMS Programmer Bundle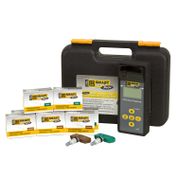 Manufacturer: Xtra Seal
Product ID: 1743001
Smart Sensor Pro+ TPMS Programmer Bundle.  (Program Tool, 4 of the 315mhz sensors, and 4 of the 433mhz sensors)
This Smart Sensor Pro+ Tool enables you to become up to date with the TPMS issues that affect us in today's market.  The Pro+ allows you to scan the vehicles TPMS sensors to see if they are sending out information or not (due to depleted battery or damage).  It also allows you to program a new sensor (vehicle specific) with the information on the tool.
The scan and copy feature is an amazing features that allows you to scan the information off of an existing sensor and copy the exact information onto a new sensor.  This feature saves time in the vehicle re-learn procedure.  The exact codes are copied onto the new sensor, so that the vehicle is sent the same signal as before.  A great feature to use when replacing rims or if a sensor is damaged, but still sending out a signal to copy and replace.
USB Updates for years of usage.
To find out more about getting a price quote or ordering this product,
click here
.