Tubeless Snap-in Valve (TR413)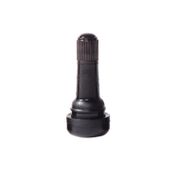 Manufacturer: Xtra Seal
Product ID: 17413
Tubeless snap-in valve stem.  The TR413 valve stem is the most common non-TPMS valve stem in passenger vehicles.
Application:  65 psi maximum cold inflation pressure and maximum rim thickness of 0.156″.
Note:   H,V,W,Y AND Z speed rated tire require a metal bolt-in-style valve.
To find out more about getting a price quote or ordering this product,
click here
.