Nickel Plated Brass Valve with Grommet, (TR555D)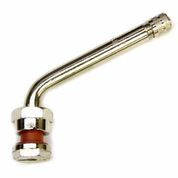 Product ID: 17555d
Metric nickel plated brass valve stem. (TR555D).
Dimensions: Height (0.98″), Length (2.60″), Angle (60 Degrees), Valve Hole (9.7mm)
Application:  For Aluminum wheels with 9.7mm (0.382″/0.394″) valve hole and rim thickness of .218″-.330″ at valve hole.
Recommended torque at installation: 80-125 in-lbs.
To find out more about getting a price quote or ordering this product,
click here
.