Lead Wire Combination Repair Units 3/8″, Box/24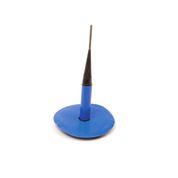 Manufacturer: Xtra Seal
Product ID: 13674c
Lead wire combination units-wrapped stem (Box/24).  For use in radial and bias tires.  Designed for chemical or heat vulcanization.  Patch portion has gray vulcanizing gum with blue poly backing.  Stem portion is wrapped with gray vulcanizing gum.  No special tools required.  Use carbide cutter (14347)  to prepare injury channel.  Install from the inside, pull through, and cut off wire.  It's that easy.
Dimensions:  Patch size 2 1/8″ (55mm),  Diameter 3/8″ (9.5mm)
To find out more about getting a price quote or ordering this product,
click here
.