Streamlight Stinger LED with 120V AC (NiCD)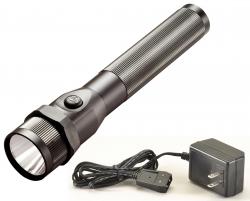 Product ID: sr75711
This all purpose flashlight is designed for the broadest range of lighting needs at the best value.
Multi-function On/Off push-button switch lets you choose three lighting modes and strobe; designed for extremely long life; tested at 1 million actuations
Three modes and strobe:
– High for a bright super-bright beam – 350 lumens; 24,000 candela peak beam intensity; 310 meter beam distance; runs 2 hours
– Medium for bright light and longer run times – 175 lumens; 12,000 candela peak beam intensity; 219 meter beam distance; runs 3.75 hours
– Low for light without glare and extended run times – 85 lumens; 6,000 candela peak beam intensity; 155 meter beam distance; runs 7.25 hours
– Strobe for disorienting or signaling your location; runs 5.5 hours
Deep-dish parabolic reflector produces a concentrated beam with optimum peripheral illumination
C4® LED technology, impervious to shock with a 50,000 hour lifetime
Regulated run time provides consistent performance throughout battery life
3-cell, 3.6 Volt Ni-Cd sub-C battery, rechargeable up to 1000 times.
10 hr. steady charge, 2.5 hr. fast charge, or PiggyBack charger optionsAnti-roll rubber ring included
Machined aircraft aluminum body with non-slip rubberized comfort grip
IPX4 water-resistant; 1 meter impact resistance tested
Unbreakable polycarbonate lens with scratch-resistant coating
Includes anti-roll rubber ring
Length: 8.41 in.; Weight: 12.4 oz
Serialized for positive identification
Limited lifetime warranty
Assembled in USA
To find out more about getting a price quote or ordering this product,
click here
.