60 gal. Extra Heavy Clear Can Liner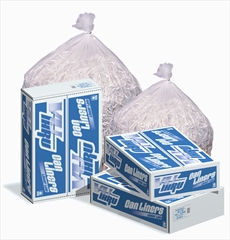 Product ID: p6530c
Low density can liner 60 gallon, 100/case.
Liner, 38″ x 58″, extra heavy-duty, clear. Clear can liners are becoming increasingly popular in areas where recycling is prevalent, because they allow quick and easy visual confirmation of contents. They increase trash visibility to prevent unwanted disposal and help prevent pilferage of items that could be concealed in opaque liners.
Features of this bag include:top quality resins, maximum film strength, puncture and tear resistance, star sealed bottom, virtually leak proof.
To find out more about getting a price quote or ordering this product,
click here
.