SPRAY NINE CLEANER DISENFECTANT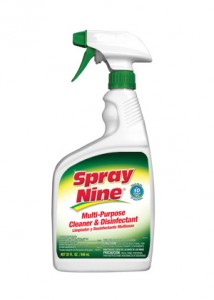 Manufacturer: Spray Nine
Product ID: 26825
The most versatile tool in your cleaning arsenal! 
Spray Nine's professional-strength cleaning power has been trusted by millions of professionals and consumers for over 50 years.  Spray Nine works hard to remove all types of dirt, grease, grime and stains.
One Product, NINE Uses!
1.  Cleans
2.  Degreases
3.  Disinfects against viruses in 30 seconds
4.  Disinfect against bacteria in 45 seconds
5.  Sanitizes in 10 seconds
6.  Kills fungus in 3 minutes
7.  Deodorizes
8.  Controls mold & mildew
9.  Removes stains
Kills viruses and bacteria including:
Pandemic 2009 H1N1 Influenza A (Swine Flu), Influenza A2 Virus, Salmonella Choleraesuis, Escherichia coli (E.coli), Hepatitis B & C Viruses, Norwalk Virus, Staphylococcus aureus – MRSA (HA & CA) and more!
Use Spray Nine on:
HOME
Countertops, stoves, refrigerators, sinks, tubs/showers, toilets, floors, ceramic tile, garbage pails, toys, patio furniture, tools, sporting equipment, BBQ's, fiberglass, vinyl siding and more.
AUTOMOTIVE
Engines, tires and wheels, bug splatter, consoles, dashboards, door panels, vinyl tops, upholstery, trunks, trailers, RV's and more.
INDUSTRIAL
Machinery, equipment, tools, motors, conveyors, vents, light fixtures, work benches, floors, walls, cafeterias, showers, change rooms, vinyl, rubber, plastic, metal and more!  NSF C-1 Rated.
INSTITUTIONAL
Chairs, desks, floors, wall, commodes, urinals, sinks, chrome fixtures, countertops, tables, and more.
FOODSERVICE
Hoods, vents, refrigerator exteriors, stainless steel, floors, walls and more.  NSF C-1 Rated.
To find out more about getting a price quote or ordering this product,
click here
.